Terminal Quartet V1.0
The Terminal Quartet was originally conceived by composer/producer Andrew Garton and video artist John Power as a means to define software as instrument, both in an audible and visual context.
The Quartet performs structured improvisations. Performers research and arrange individual movements in isolation from each other as governed by the context and structure of Garton's compositions.
The debut performance was held at the Lambsgo Bar, Fitzroy, Melbourne, 18 December, 2003. The Quartet performed Drift Theory 01, a structured improvisation and collaborative composition by Andrew Garton.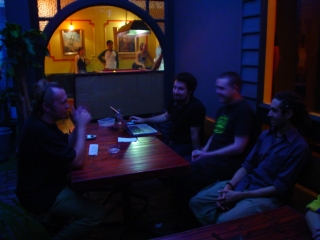 Once we got through the logistcs of space (fitting four laptops and MIDI controllers on a small table) and sound checks we met out the back of the bar to discuss the piece.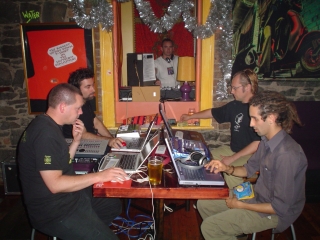 The Terminal Quartet V1.0 is Andrew Garton, Paul Abad, Steve Law and Jeremy Yuille (from top-right clockwise to top-left). That's Brains in the DJ booth finishing up his set before we hooked in.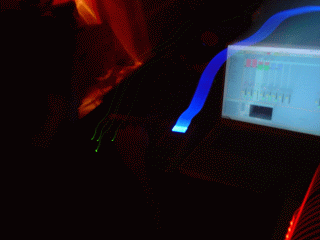 More information about the Terminal Quartet.

Photos by Justina Curtis.
Posted on December 24, 2003

Comments
Andrew - just copped an image for a cover of the cd I made from the download - lifes good!!
take care
ab
looking forward to seeing the finished product :^)
recent entries
recent comments
obsessions
contact & bookings
Andrew Garton
Toy Satellite/Secession
PO Box 1681
Collingwood, 3066, Australia

Tel/Fax: +61 (0) 3 9318 1222

ag @ toysatellite.org


colophon