At a Distance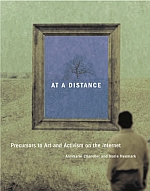 Over two years ago I was commissioned to write an essay for a book to document "Precursors to Art and Activism on the Internet". Edited by Annmarie Chandler and Norie Neumark, originally for University of Technology, Sydney, the book was finally published by MIT Press. It is a unique collection of works clarifies the fact that networked collaborations of artists did not begin on the internet.
The book can be purchased directly from MIT Press or ask at your local book store for a copy.
I'm quite proud to have been included in this publication. Unlike email, it feels great and smells good too!
Posted on May 16, 2005

Comments
And the smell of texta colour? - And what about Perkin's Paste, when we had scrap-books?
Or do you still have scrap-books?
Now there's some anthropology. You: cultural reporter.
So please report.
well done boy
I still keep scrap books of sorts and the old ones stashed away some where. These days I use fragrance free glue-sticks and my journals, both the day book and the various others I may carry around are the canvas on which the fragments of my life are adorned.
recent entries
recent comments
obsessions
contact & bookings
Andrew Garton
Toy Satellite/Secession
PO Box 1681
Collingwood, 3066, Australia

Tel/Fax: +61 (0) 3 9318 1222

ag @ toysatellite.org


colophon