Son of Science
Son of Science is a new ensemble from composer/producer Andrew Garton in collaboration with one of Australia's leading underground producers, Steve Law, and video and special effects artist, John Power.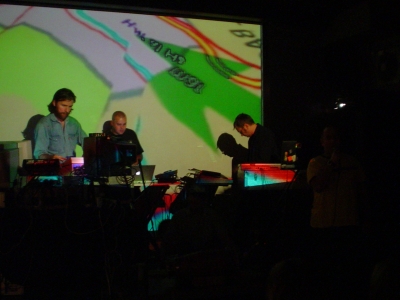 Performing "Border Song" from Garton's opera, "Auslaender und Staatenlose".
The SON OF SCIENCE Ensemble is:
- Andrew Garton (vocals, laptop, keyboards)
- Steve Law (laptop, synths)
- John Power (video)
- Special Guest - Mark Tallon (vocals)
Son of Science supported Damo Suzuki during his recent Big Day Out Tour and was hailed by Melbourne Publishing as a unique and potent blend of "psychedelic beat architecture".
Son of Science combines contemporary electronica with jazz and orchestral elements alongside evocative visuals created in and 'navigated' live via a customised game engine.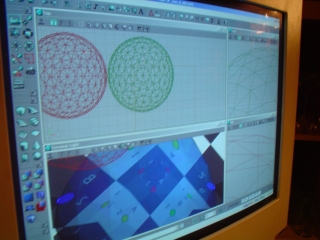 Screen-shot of visuals development environment.
Son of Science is Andrew Garton's return to his songwriting and compositional roots and is in part inspired by the writings of Olaf Stapledon and the compositions of such luminaries as Stockhausen and Takemitsu.
The innovative fusions accomplished by bands such as CAN, Mahavishnu Orchestra, King Crimson, Focus and Tangerine Dream contribute to the Son of Science sound, its creative direction and challenges.
Says Andrew of Son of Science, "Several years ago the concept for a new series of compositions emerged as a synthesis of where I had come from (Sydney's vibrant late 70's/early 80s band scene) and where I had spent the best part of the last decade (Melbourne's unique and fecund media arts community). I wanted to get back to playing live and to write music that was both epic and evocative.
"The Son of Science Ensemble is an attempt to create the intensity and euphoria of a traditional band of the psychedelic, avant-jazz variety, but with today's technology and the flood of cultural influences now available to us..."
Says Steve of Son of Science, "My participation in the Son of Science ensemble represents a welcome return to live collaborative performance, something I have only done on rare occasions over the past 10 years. It's very exciting to be playing in a group situation again, improvising and working with the spontaneous energy of the other members of the ensemble. I'm also enjoying playing live analog synths again (i.e. Not connected to sequencers), and obtaining exciting new sounds with these classic instruments by processing them live through the latest computer processing technology. Andrew and I have quickly developed a strong and intuitive musical relationship, and I hope to get more involved in the composition side of Son of Science as the group evolves.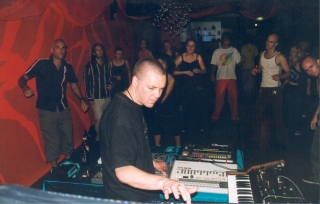 Steve live at Mantra
"John Powers' live video projections add an extra dimension to our live shows. I have already designed some sounds to accompany the objects in his digital landscapes (which he then effectively performs along with the rest of the music), and also hope to develop these sounds further as our performances progress."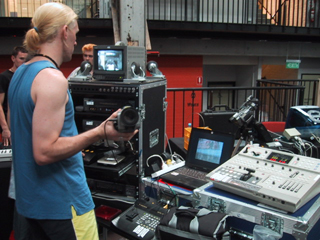 John + video rig, Undercurrents, Brisbane Powerhouse, 2001
Son of Science sample tracks:


This music free to share under a Creative Commons Music Sharing License.

For more information contact:
Andrew Garton: agarton -at- toysatellite.org / +61(0) 3 9417 5425
Posted on June 11, 2004

recent entries
recent comments
obsessions
contact & bookings
Andrew Garton
Toy Satellite/Secession
PO Box 1681
Collingwood, 3066, Australia

Tel/Fax: +61 (0) 3 9318 1222

ag @ toysatellite.org


colophon