Sensorium Dial, Installation, Vienna
An installation commissioned from KunstRadio for the front foyer of the Vienna office of ORF.
Sensorium Dial consisted of early 20th Century radios tuned to unnallocated frequencies, their transformers at such proximity to each other created a sound not unlike a theremin when approached.
The installation was roped off to reduce the incidence of "unwarranted" sound that so alarmed the cloak room staff.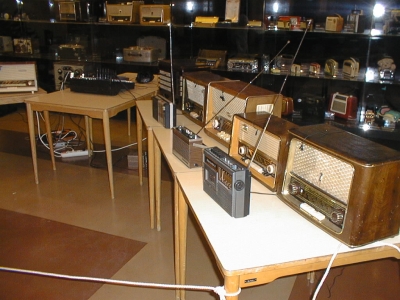 Sensorium Dial was conceived by Andrew and KunstRadio producer, Heidi Grundmann. The radios for the installation were provided by the Austrian collector Gustav Paier.
Posted on December 05, 1997

recent entries
recent comments
obsessions
contact & bookings
Andrew Garton
Toy Satellite/Secession
PO Box 1681
Collingwood, 3066, Australia

Tel/Fax: +61 (0) 3 9318 1222

ag @ toysatellite.org


colophon