Live Netcast - Sat 4 Sept 2004 10:00-13:00 (GMT +10)
Beth, Mark and Andrew reading cut segments of text, pulled at random from a bowl in the centre of the table. Steve manipulating the voices in real time. Andrew at the laptop encoder and reciting text messages sent throughout the performance by Adam Burns (UK) and Steve making musical underscore on his laptop.
Read about the project, it's principal artists, view photos from the netcast and reference a listing of source materials for the script.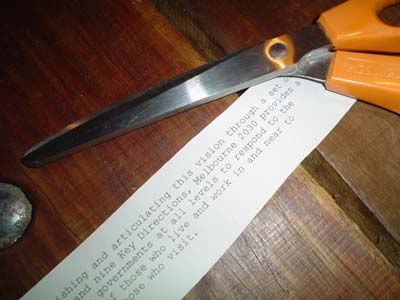 Feedback - during and after
PHILIPPINES, Manila -- Jojo: is that a play? good work. yes, no stuttering. now its clear. now its playing like a modern zen japanese tune.
AUSTRALIA, Cygnet (Tasmania) -- Chip: listening in bits because of my bad connection, pretty good fun. the laugh loops are really funny. sounds great...
AUSTRALIA, Hobart (Tasmania) -- Roderick: sounding swell - admirable artaudian charactoids and gregorianisms from beth - swell futuristic declamatory stentorianisms from thineself et al. - oh, but the cut-up hot-switched to a bowl - interactively nice but how depressing meinerseits - do ring if u have a late twitch to caeserianise thine mots - will be here for at least 40 more seconds...
AUSTRALIA, Byron Bay (New South Wales) -- Glen: sounds absolutely wicked ... can i replay on BAYFM next week ??
AUSTRALIA, Elwood (Victoria) -- Grant: Nykolai and I were able to turn on, tune in and crack up - it was coming in very well with only a single drop-out when I had to download a large email (or something) and my link overloaded. Loved Nykolai's comment about "Alien Music" - really seemed to fit what we were hearing :)
AUSTRALIA, Fitzroy (Victoria) -- Zennie: site looks xcellent - damn slow web connection cant get the webcast working but looks great - congratulations